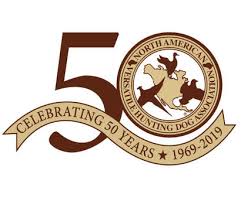 NAVHDA is celebrating 50 years! A lot has changed over the past 50 years, but the mission and passion of NAVHDA has always remained the same: to educate and help train versatile dogs and their owners.
Here's a podcast with NAVHDA's past president, Marilyn Vetter, where she discusses some NAVHDA history, and how this organization has grown and developed over the years. NAVHDA now includes over 7,000 members, with almost 80 chapters in North America! Click Here to listen to the Podcast.
NAVHDA Main Message
The North American Versatile Hunting Dog Association (NAVHDA) is a nonprofit corporation whose purpose is to foster, promote, and improve the versatile hunting dog breeds in North America; to conserve game by using well trained reliable hunting dogs before and after the shot; and to aid in the prevention of cruelty to animals by discouraging nonselective and uncontrolled breeding, which produces unwanted and uncared for dogs.